Mention the name Eugene Kuntz in legal circles, and one of the first words you'll likely hear is "scholar." In fact, he was so much an authority on oil and gas law that he wrote the book on it – literally. His multi-volume Kuntz, A Treatise on the Law of Oil and Gas provides an exhaustive survey of oil and gas conveyancing and operations and continues to be extensively cited by courts nationwide to this day.
In a tribute to Gene Kuntz that is displayed outside the conference room that bears his name in McAfee & Taft's Oklahoma City office, oil and gas attorney Philip D. Hart wrote, "While there are other useful treatises on oil and gas law, his most thoughtfully considers the reasons behind the decided cases. Kuntz had the ability to foresee oil and gas law issues likely to come before the courts at a later time and to suggest the basis on which they might be resolved."
The south Texas native, who graduated with his Bachelor of Laws degree (LL.B.) from Baylor University in December 1939, began delving into oil and gas issues immediately after going to work for a two-man law firm in Amarillo, Texas, in 1940. According to his daughter, Karen Kuntz Maloy, he chose to practice in Amarillo because, unlike the rest of the state, that region had weathered the Great Depression a bit better due to an abundance of oil and cattle. In addition, Kuntz chose the Sanders and Scott firm because they were paying $100 a month – twice what any other west Texas firm was paying.
It's likely that no one at the time could have predicted that this newly admitted lawyer with no background in the oil and gas business would go on to become one of the nation's foremost authorities on oil and gas law. He was once even cited as an authority in a majority opinion of the U.S. Supreme Court written by Justice William J. Brennan, Jr. in the case of Northern Natural Gas Company v. State Corporation Commission of Kansas.
According to Maloy, after her dad completed his military service at the end of World War II, he decided he wanted to teach law, but doing so required a postgraduate law degree that he could not earn until he first obtained his Bachelor of Arts degree. So, at the age of nearly 32, Kuntz returned to Baylor University to earn his B.A. in 1946. He and his wife Rose then moved to Cambridge, Massachusetts, where she worked at Radcliffe College while he earned his Master of Laws (LL.M.) degree at Harvard Law School. With sufficient academic credentials in hand, he then joined the faculty at the University of Wyoming's law school in 1947. Five years later, in September 1952, he joined the faculty at the University of Oklahoma College of Law, where he taught on a number of topics, including taxation, estate planning, and oil and gas law.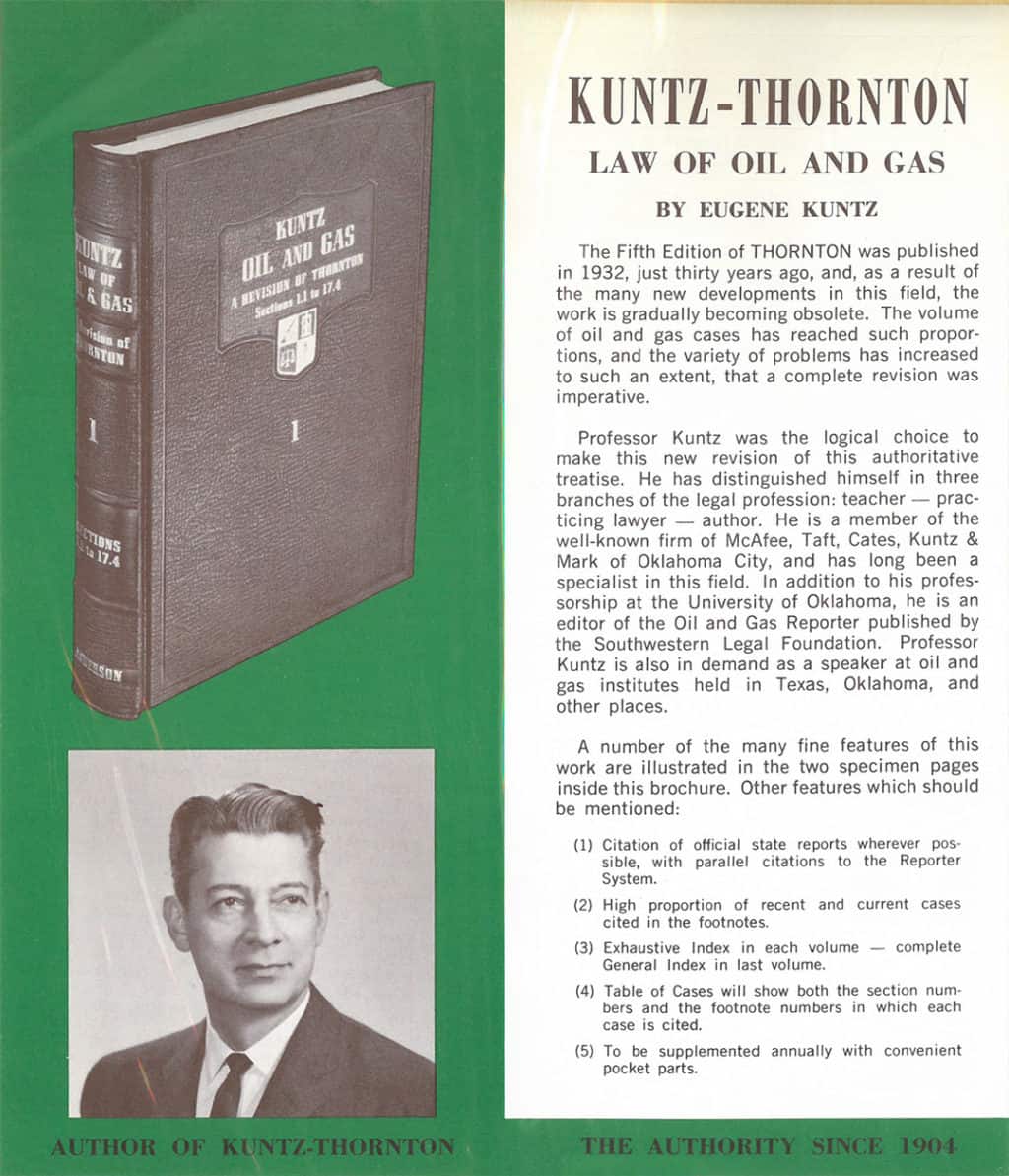 In 1958, while still teaching a few days a week at OU Law, Kuntz returned to private practice as a partner with the newly renamed McAfee, Taft, Cates & Kuntz. It was while teaching at OU and working at the firm that Kuntz – lawyer, teacher, scholar – would begin writing and speaking extensively on oil and gas law. Before authoring the comprehensive multi-volume treatise and the subsequent "pocket parts" (updates) that would bear his name beginning in the early 1960s, he wrote the pocket parts to Thornton on Oil and Gas and co-authored a number of other scholarly works on oil and gas law. For 40 years, he also served as an Oklahoma editor for the Oil and Gas Reporter.
A gifted attorney, Kuntz remained a teacher at heart. While OU Law students benefitted from Kuntz's experience as a practicing attorney, McAfee & Taft attorneys equally benefitted from Kuntz's teaching and mentorship.
Long-time partner Gary Fuller considered Kuntz not only a mentor, but also the best law professor he ever had. He remembers taking every available course that Kuntz taught at OU Law. Then, when he went to Yale for his LL.M., he made it a point to take at least one class from every professor at the Ivy League school just to see how they compared to Kuntz. It was no contest.
"Kuntz was the best teacher," said Fuller. "He was that good at teaching and was just beloved by his students, including me."
Kuntz taught at the University of Oklahoma College of Law for nearly 30 years and served as its dean from 1965 to 1970.  When he retired from OU in 1981, he was honored with the Distinguished Service Citation, the University of Oklahoma's highest honor.  Several months prior to his retirement, attorney Judson "Pete" Woodruff penned an article for the Oklahoma Law Review titled "Eugene Kuntz and Private Practice," in which he lauded Kuntz for his brilliance and the "consistently high level of excellence" at which he performed in all facets of his life, including his work as an attorney, colleague, and mentor at McAfee & Taft.  
Although he stepped down as a partner with the firm when he was named dean of OU Law, Kuntz remained of counsel with McAfee & Taft until his death in 1995.