For those who began their professional careers in the age of computers, cell phones and the internet, it's easy to take for granted many of the conveniences that modern office life provide.  If you were to ask them, two retired McAfee & Taft attorneys would likely suggest you add one more thing to that list: parking garages. And even better yet, paid parking.
Today, downtown Oklahoma City is dotted with multi-story parking garages around the area. But back in 1965, when associates Bill Rodgers and Gary Fuller joined the firm, surface parking lots – the kind that offered cars no protection from the elements and little to nothing in the way of security – were the norm. And on top of that, they weren't as cheap as you'd think, given the lack of amenities. At the time, the price to park in a lot that was relatively close to the firm's offices in the First National Building was $1 a day (roughly $10 in 2022 dollars, about the same price you'd pay to park in one of downtown Oklahoma City's public garages today).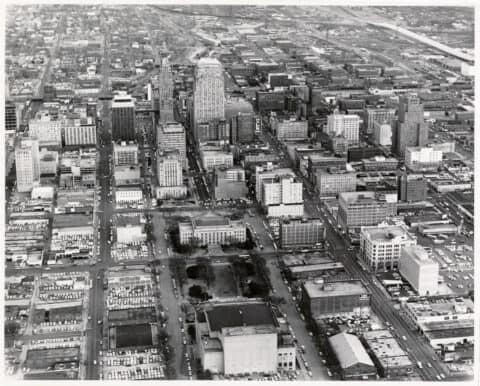 For Rodgers and Fuller, who were already carpooling to work each day to save money, that was a lot to pay, especially on an associate's salary. So, according to Rodgers, Fuller took it upon himself to find them a much better deal – an unpaved surface lot much further away that only charged 50 cents a day.
Their best efforts to save money didn't last very long.
According to Rodgers, within a day or two of making the switch to the cheaper lot – during winter, no less – the two made the long, cold trek out to the lot after working late one night, only to find the car was missing. (They would later learn it had been stolen and used in a holdup in north Oklahoma City.)
At the time, both men had money in their wallets but lacked the one thing they needed to call for help: a dime. In a stroke of luck, Gary found a dime, and the pair made their way in the dark to the nearest pay phone to call the police.
"We called the police department and reported it missing, and, fortunately, they had it," said Rodgers. "And we had to ask the dispatcher, or whoever we were talking to, if they could come pick us up because it was a long way from where we were to the police department, and it was cold. And I mean, really cold. And when we called, we had to tell the dispatcher, 'Do not hang up because if you hang up, we can't call you back because we don't have another dime!'"
"After this affair, I made a motion that we suck it up and move back to the dollar lot," said Rodgers, "even if we had to ask for a raise of 50 cents a day."
---
The feature photo (top of the page) of the Oklahoma City skyline at twilight was taken by Daily Oklahoman photographer Bob Albright at the Walnut street overpass just east of the downtown district, looking west along NW 2 street (between the First National and Liberty National banks). Credit: Daily Oklahoman
Bonus history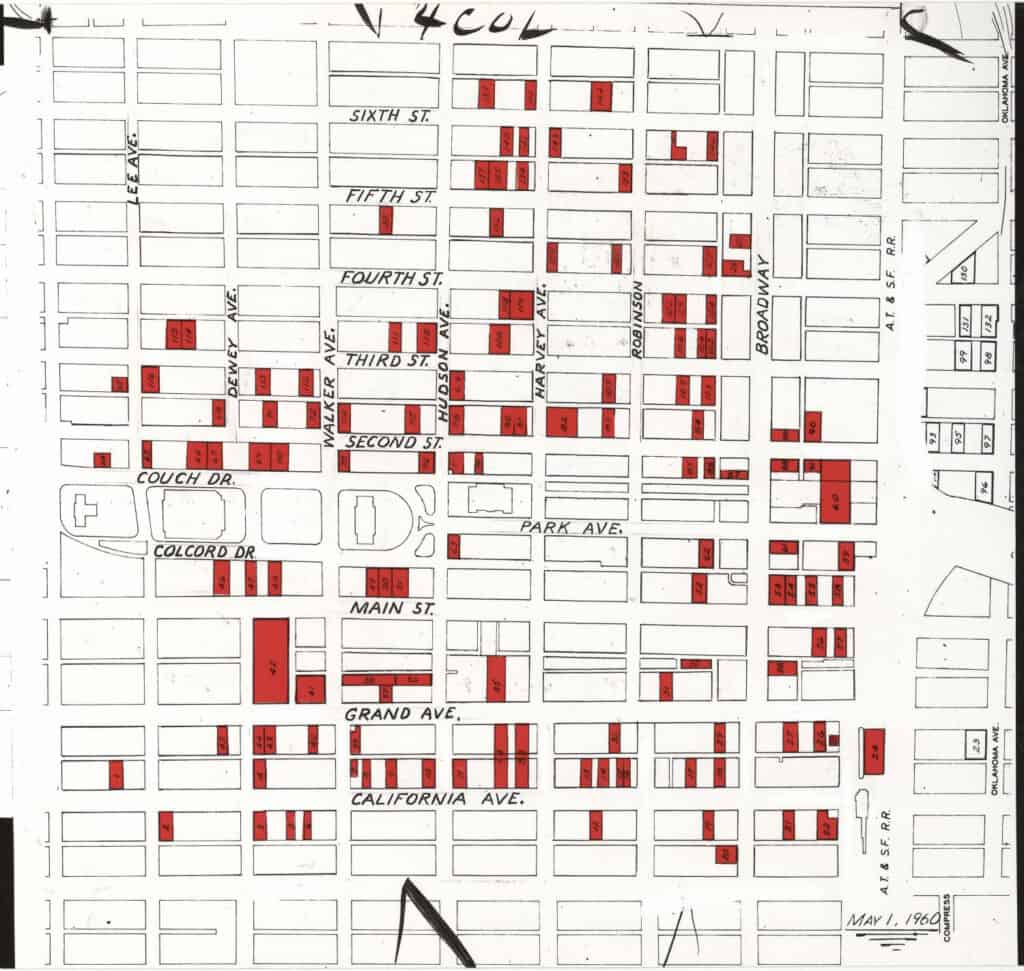 The above map was published in the Daily Oklahoman on May 15, 1960 with the following caption/information:
"Downtown Oklahoma City's parking problem as things stand right now, city traffic engineers announced Saturday. A survey completed by the city office of traffic control shows 12,868 off-street parking spaces are available to downtown workers and shoppers, with normal week day peak occupancy comfortably below the danger line where drivers begin space-hunting circling of the block. James H. Robinson, director of traffic control, Saturday described the current total as already exceeding parking space goals for the downtown area set for 1964. The Barton Traffic Plan, adopted by the city in 1954, forecast a need for 12,314 parking spaces by 1964 in the downtown area, provided the central business district was able to pull shoppers back from outlying areas — 1,000 spaces gained. But he also gives much credit to private operators of the numerous parking lots ringing the city's core area. According to Dennis Kyrk, city traffic engineer who conducted the survey, the number of parking spaces in the downtown area 'more than satisfies the present demand.' Uptown along NW 23, from Walker to Broadway, a real problem may be developing, Robinson said. The pinch being felt by residents of the affected areas shows up in the increasing number of complaints about parking availability received by the traffic control office, it was pointed out."