McAfee & Taft co-founder Kenneth McAfee was many things throughout his life: an avid outdoorsman, innovative lawyer, entrepreneurial businessman, WWII naval officer, husband to Maxine, and doting dad to his daughter Jaci. And that list doesn't even include his early adventures as a sharecropper, boarding house employee, farmhand, accountant, bookstore clerk, or installer of accounting systems.
Whatever the role, what remained constant throughout his life — from the time he was a very young boy growing up in western Arkansas until his death in 1986 at the age of 83 — was his authenticity. Honest and hardworking, personable and outgoing, adventurous and fun-loving. No putting on airs. No pretending he was someone he was not.
And he was firm in his convictions, even if it cost him. Even if it cost him a black eye.
As told by Terry Barrett, the story of Mr. Mac's black eye is one for the ages: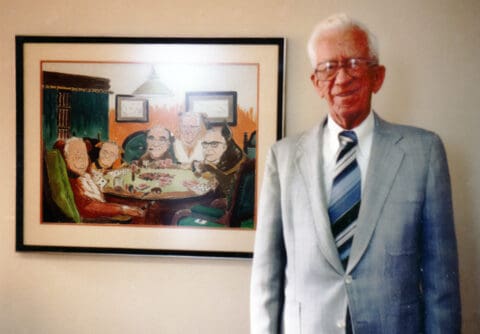 "Not too long before his death, he showed up one day with a black eye, which he proudly walked around the offices showing everybody. It seems that Mr. Mac accused a younger (but still way too old for this kind of stuff) card player of cheating at the Petroleum Club the afternoon before, and the guy hit him. When several of Mr. Mac's younger (but themselves also way too old) clients heard about it, they were terribly incensed, and made all kinds of plans for revenge, causing Mr. Mac to have to spend a lot of time interceding on behalf of the offending party in order to prevent him from suffering a fate much worse than did he."
In the world of Mr. Mac, a shiner wasn't so bad. Heck, if anything, not only was it a visible badge of honor, but it made for a good story. And doesn't everyone enjoy a good story told by an engaging storyteller?
To the end, Mr. Mac remained his authentic self.