In December 1980, the support staff of McAfee & Taft assembled, designed and distributed a cookbook featuring the favorite recipes of firm employees and family members. The cover, which was designed to mimic a securities offering circular, listed "Incredible Edibles, Inc." as the issuer and McAfee & Taft as the underwriter.
The opening page read:
This is our offering to you reflecting our appreciation of the good people who toil in the name of McAfee & Taft. For some, a cookbook may not be the most appropriate Christmas gift you will receive, but please accept it in the spirit with which it is given. Napoleon lost a war because his army ran out of (among other things) FOOD! May all of your wars be small and all of your victories great.
Merry Christmas!
The Support Personnel
of the Firm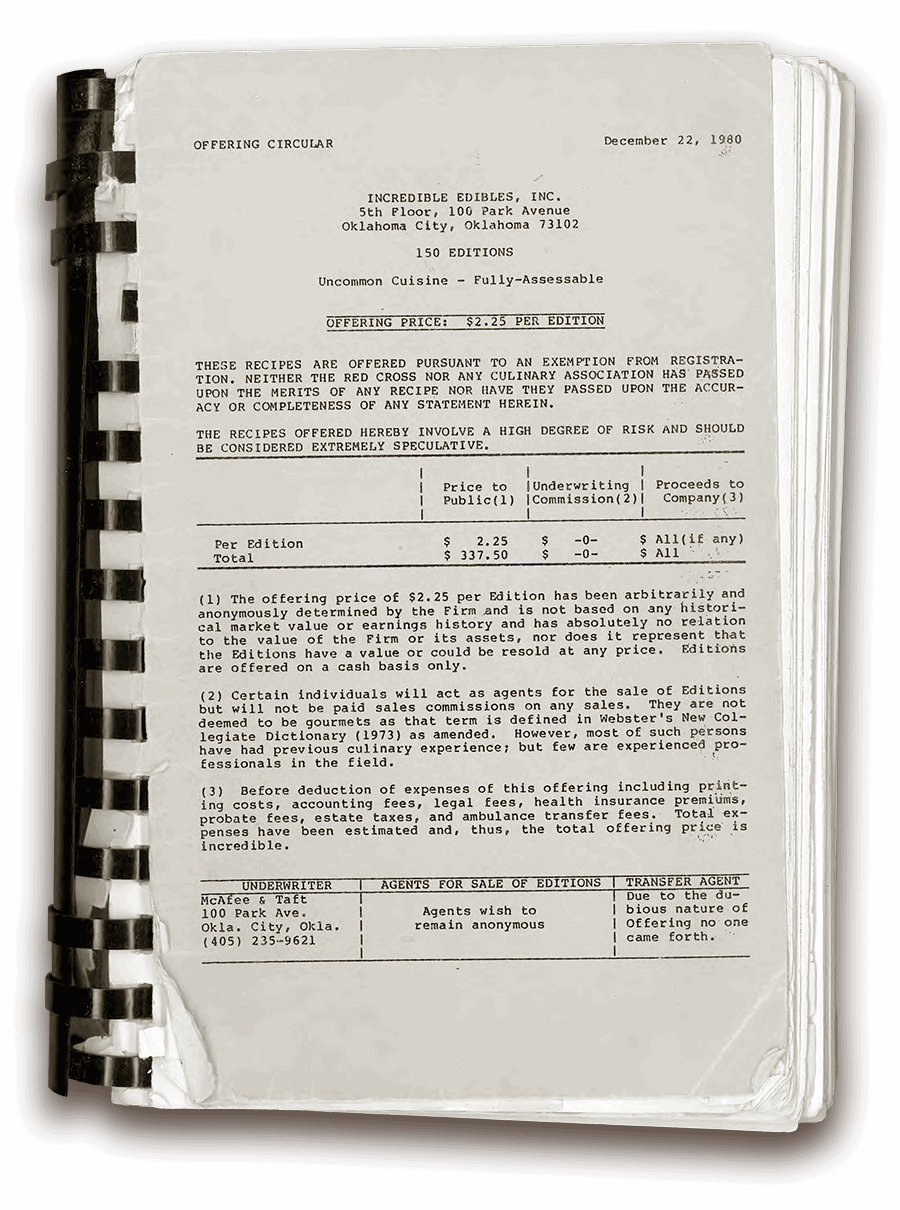 Original artwork for the cookbook was contributed by Pete Woodruff, Pamela Bocock, Becky Marshall, and Marilyn Cook. Toni Porter, Ted Elam, Janelle Jacobs, Marilyn Adoptante, and Kathy Burns were credited with assembling and designing the 325-page cookbook.
Cookbook sections included:
Articles of Inebriation (beverages)
Accessories Before the Fact (appetizers)
Constructive Crusts (breads)
Accessories and Accomplices (sauces and soups)
Lettuce Represent You (salads)
Esteamed Associates (vegetables)
Preferred Stock (main dishes)
Tort(s) (and Other Delicious Crimes): cakes
Delicious Beyond a Reasonable Doubt: pies
Confections are Good for the Soul (cookies and candies)
Just Desserts (special desserts)
Addendum – Proposed Guidelines of the Office of Potential Slip-Ups (OOPS) Re: Avoidance of Culinary Catastrophes (or Modus Operandi)
Included among the firm favorite recipes were Terry Barrett's Big Red Bloody Marys, Gerry Hanna's Lemon Bread, Lorene Buettner's Steak Diane, Marilyn Adoptante's King Ranch Chicken, Senator Henry Bellmon's Chili (shared by Pamela Bocock), Janelle Jacobs' Baked Peaches Savoy, and Elaine Burget's Pumpkin Roll.
The very first "recipe" listed in the cookbook was submitted by long-time employee Judy Webb as a nod to firm co-founder Kenneth McAfee, who spent many of his vacations fishing for salmon and tuna and who was always generous in sharing his catch with the firm.
Salmon or Tuna Luncheon
(This one is really a snap!)
Get Mr. McAfee to catch some salmon or tuna.
Store in safe until you can of an excuse to have a luncheon.
Open cans.
Mix well with McAfee-Taft employees.
Serve with other McAfee-Taft specialties.