From an early age until well into his retirement years, Pete Woodruff was an artist — and an accomplished one at that. It's not exactly the relaxed, low-key hobby you'd expect from an ambitious, hard-working career professional who earned an undergraduate degree in engineering physics and two graduate degrees in law. Then again, maybe it was just the kind of hobby you'd expect from someone who was a keen observer of the world around him, and who took genuine delight in creative expression.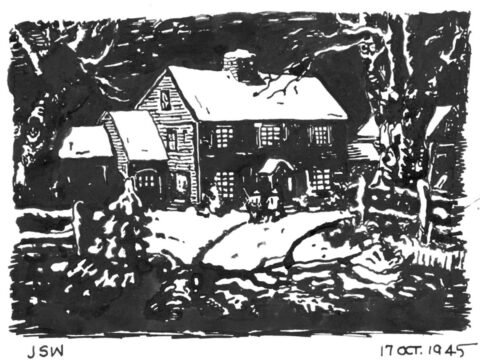 What he lacked in formal training, he made up for in talent and the ability to creatively draw from his own life experiences.
"He was just naturally gifted," said his daughter, Jenny Woodruff.
While an undergrad at the University of Oklahoma, Woodruff was a cartoonist for a local humor magazine that he and his good friend, Ross Cummings, published. His artistic interests and talents weren't just limited to drawings and cartoons, though. Using tempera paint and faking the brushstrokes because he couldn't afford oils at the time, he recreated Pablo Picasso's colorful "Girl Before a Mirror." Pleased with his effort, he kept the painting as part of his personal collection.
Woodruff continued to paint and draw throughout his life, often drawing inspiration from the many places he had travelled as well as his life's passions. Common themes in his cartoons were football, golf, and his beloved profession. Fondly remembered by his colleagues and friends for his marvelous storytelling talents, he was quick to see the humor in things, and the practice of law was no exception.
After his retirement from McAfee & Taft in 1990, Woodruff's artistic interests turned mostly to painting watercolors, a number of which his family gifted to the firm and which proudly hang throughout the firm's Oklahoma City offices, including the conference room that bears his name.