2022 officially marks the 70th anniversary of the founding of McAfee & Taft. Over the course of this milestone year, we'll celebrate with weekly flashbacks from our firm's illustrious and interesting history. This week we'll take you back to where it all started: 1316 Liberty Bank Building in downtown Oklahoma City.
---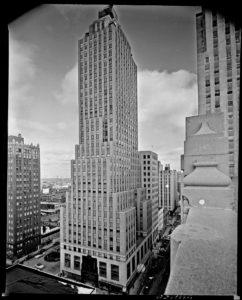 One doesn't have to walk far from the firm's current offices in Leadership Square in downtown Oklahoma City to reach the original office of McAfee & Taft – that is, quite literally, the office of firm co-founders Kenneth E. McAfee and Richard G. Taft. In fact, all you need to do is cross the street to arrive at the northeast corner of North Robinson & Park Avenue.
In 1952, the office of the newly formed law firm of McAfee & Taft was located at 1316 Liberty Bank Building. Now known as City Place Tower, the 33-story art deco-inspired building was originally named the Ramsey Tower after W. R. Ramsey, the Oklahoma oilman who financed the project, and was built by the Starrett Corporation, the same company that constructed the Empire State Building. Both the Ramsey Tower and the First National Bank Building were involved in the "Great Race" of 1931 to see which building would be topped off first, claiming the title of Oklahoma City's first skyscraper. The Ramsey Tower won, completing construction just a few weeks before the slightly taller First National Bank Building opened its doors.
From the day it opened, the Ramsey Tower boasted first-class amenities, including a fully automatic elevator, air conditioning, and an architectural design that provided "daylight on all sides." It also featured a spiral fire escape slide that stretched the full height of the building.
Over the years, the building would change names several times. In 1943, the building was renamed the APCO Tower after the Anderson-Prichard Oil Corporation. In 1952, the building's primary tenant was Liberty National Bank, and the tower was named the Liberty Bank Building. Located at 204 N. Robinson, the skyscraper would not change names again until 1971 when Liberty National Bank and Trust Company moved into its newly constructed 36-story Liberty Tower headquarters located at 100 N Broadway (now the BancFirst Tower).