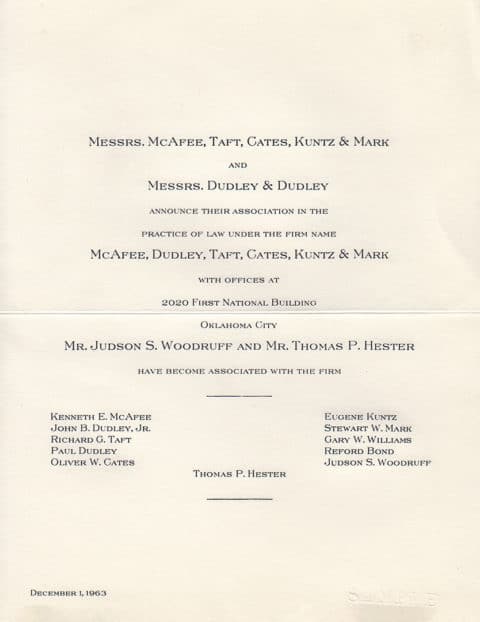 In 1963, attorney Pete Woodruff left his high-ranking position as general manager of European operations with Marathon Oil Company to join his good friend, litigator John Dudley, at the law firm of McAfee, Dudley, Taft, Cates, Kuntz & Mark. Like his colleagues Reford Bond and Stewart Mark, Woodruff was an accomplished oil and gas man with hands-on industry experience working for a major U.S. energy company.
At the firm, Woodruff was admired for his gracious manner, thoughtful guidance, keen intellect, and amazing problem-solving ability, especially when it came to complex oil and gas issues. In a tribute to Woodruff, Bob Gilliland wrote, "Pete would also take on the most complicated oil and gas title issues to be found in the office. He would tackle those factual and legal issues with the same proficiency he demonstrated in solving the most difficult crossword puzzles he could find. His philosophy was simple: if something was worth doing, it was worth doing well."
In 1971, following the unexpected death of lead trial lawyer and name partner John Dudley, Woodruff assumed an additional role at the firm: taking over the litigation department and recruiting and shepherding its growing group of young trial lawyers. To the outside world, appointing a transactional attorney to oversee and develop a burgeoning litigation practice might seem like an odd decision. To those who knew Pete, though, it wasn't cause for any concern.
According to Gary Fuller, Woodruff was a protégé of renowned oil and gas lawyer/scholar Gene Kuntz and a "whip smart" attorney who could do just about anything. And what he did extremely well was taking a genuine interest in young attorneys, mentoring them, and preparing them to make persuasive arguments on behalf of their clients. His door was always open.
"Pete was never too busy to lend an ear and his experience to answer any questions concerning an upcoming deposition, oral argument, brief or trial," wrote Gilliland. "His insightful guidance was unfailingly helpful in solving the legal problem at hand.
"He was always available," said Bill Rodgers, who joined the firm as an associate in 1965. "He would stick his head in the door and ask me if I had anything that he needed to do for me. Everybody liked Pete Woodruff. In fact, I came to the conclusion that if you didn't like Pete Woodruff, there was something wrong with you."
Woodruff was also an exceptional writer, a skill required of (and coveted by) transactional and trial lawyers alike.
"He was great at drafting, and he was very picky in his drafting," said Mike Joseph. "When he wrote something, it was beautiful. It was very elegant. It would be something that was written in a way that you would treat as something that was like a masterpiece."
"No resume, CV, or even collection of stories could convey how truly wonderful this guy was," said Gary Catron, an oil and gas litigator who joined the firm in 1980. "He was my mentor, friend, and model, as he was for many new lawyers. Pete was entirely open, friendly to everybody, generous with his time, genuinely concerned with others and their problems. When I think of Pete, I hear laughter and feel warmth and kindness. He was a wonderful man."